TDCC SSH Challenge Projects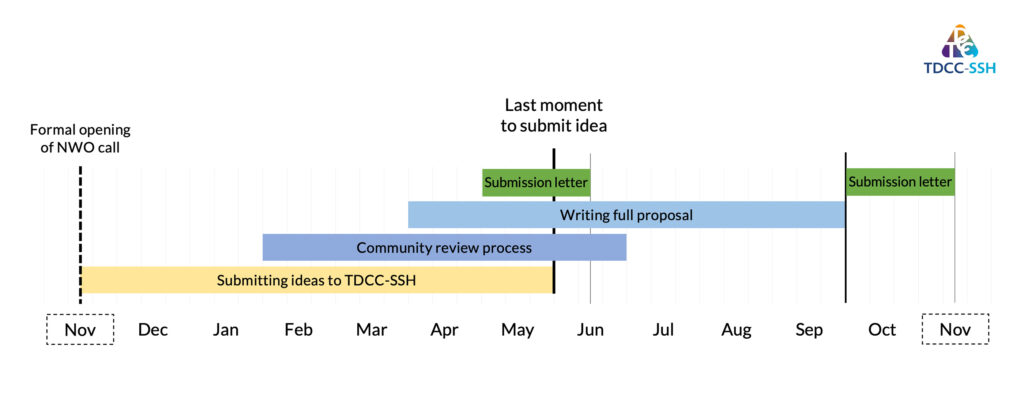 This is the process for submitting a project idea with the TDCC SSH for the 2023/2024 open call Challenge projects. There are four main stages, leading up to two submission deadlines for submitting proposals to NWO on 15 June 2024 and 15 November 2024.
1. Submitting Project Ideas: November 2023 – May 2024
This period runs from 15 November 2023 to 24 May 2024. This involves providing a project idea through our submission form, with details of your concept, a rough action plan and potential partners. We are expecting ca. 50 expressions of interest in this period.
From mid January 2024 we will begin to review the ideas against a limited criteria check (led by the TDCC SSH team and our Advisory Board). Viable project ideas will then move forward in the process. The deadline for submitting an idea is 24 May 2024, 14:00 CEST.
2. Community Review: February – June 2024
During this period, the viable project ideas will be shared on our website and through our communication channels. Between February – June 2024 we'll host a series of public Project Initiative Meetings for community consultation. There will be at least three dates for these virtual meetings.
Following each meeting, the TDCC SSH Selection Committee (consisting of members of the Advisory Board and the wider community) will convene to give the GO / NO-GO / FUTURE decision. If a GO is received, you and your team can begin the proposal writing! We expect 12-15 project ideas to be moved into the proposal stage.
3. Proposal Writing: March – October 2024
You and your team are invited to write your proposal following the NWO template and guidelines on the NWO call page. You can continue to receive feedback from the Selection Committee and the TDCC SSH team during this phase.
4. Submission Letter: June or November 2024
All proposals submitted to NWO must be accompanied by a Submission Letter from the TDCC SSH. Our Executive Board is responsible for providing these letters. They will review final proposals at two points in the year and provide you with a letter in time for either the submission deadline in June or November 2024.
5. Proposal Submitted to NWO: June or November 2024
Once you have your final proposal and submission letter ready, you must submit both to the NWO through the ISAAC online platform. Submissions for TDCC SSH projects will be accepted until 15 June 2024, 14:00 CEST or 15 November 2024, 14:00 CET.
NWO Approval Process: from June or November 2024
After each proposal submission deadline, NWO will convene an internal check for all applications via an international review committee. We expect this process to take up to three months.
Please note that this process is new to us and to NWO. We look forward to working with you and will refine and iterate the process together as we go. Please review the FAQs on the NWO call page and contact the TDCC SSH team with any questions that may remain.