Spotlight on: Emma Schreurs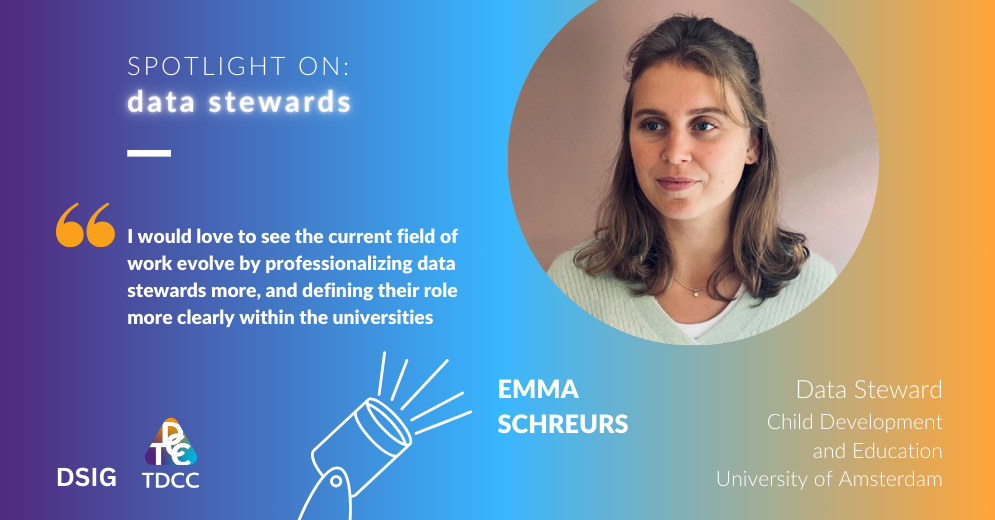 Every other week, the Thematic DCCs and the Data Steward Interest Group (DSIG) put the spotlight on one research data steward working in the Netherlands, to stimulate knowledge exchange and peer-to-peer learning.
What drew you towards the research data management field?
It crossed my path after graduation. I studied Psychology and Data Science, and was never really aware of data management. I worked as a research assistent for a while when a vacancy crossed my path. I thought, well it has something to do with data, so let's try it out!
What is an activity / task of your role that you find yourself looking forward to?
Being innovative and creative in finding new and better ways to manage data, and to convince researchers about the importance of it. Also, improving infrastructure and guidelines etc.
What is something unexpected that you can offer help with, if a colleague reaches out to you?
Privacy related questions, and programming questions, for I have some knowledge in this from my studies.
What do you think your community of research data professionals is missing?
Certificates and skills in more advanced data management tools. How to build and manage a database, for example.
What is a topic you would want to collaborate on with colleagues?
IT tools to improve infrastructure.
How would you like to see your current field of work evolve in the next 5 years?
I would love to see the current field of work evolve by professionalizing data stewards more, and defining their role more clearly within the universities.
Get in touch with Emma: University of Amsterdam staff profile
Do you want to read other interviews published in the Spotlight on series? Visit the series' page.
Are you a data steward or data professional who wants to be featured in one of the future editions? Fill out this form.