2023 launch with TDCC-SSH team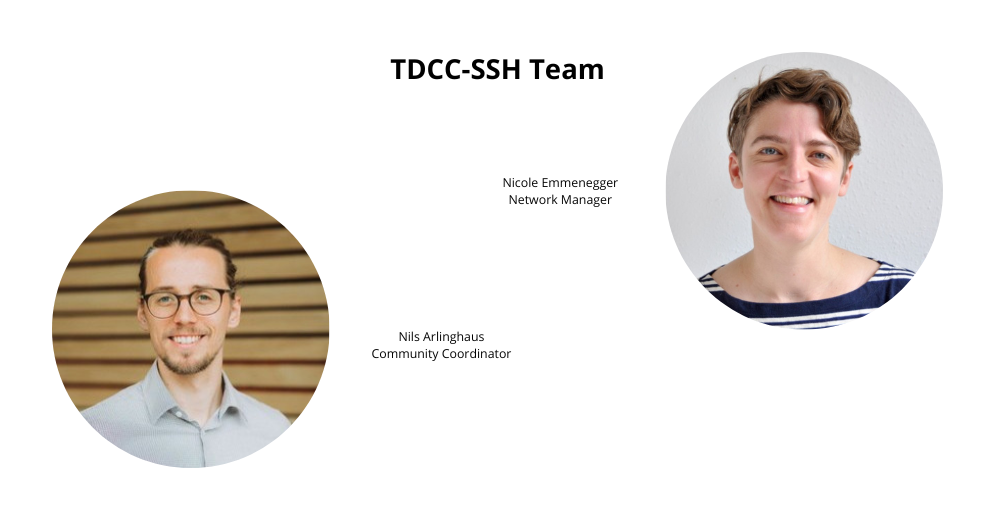 It was recently announced that NWO has allocated 4.5 million to recruit network coordinators for the Thematic Digital Competence Centres (TDCC) programme. The team for TDCC Social Sciences & Humanities has been formed. Nicole Emmenegger will start on 15 February 2023 as Network Manager and Nils Arlinghaus will follow on 1 March 2023 as Community Coordinator.
Emmenegger and Arlinghaus will ensure that TDCC-SSH is shaped by bringing together experts in the field, stimulating cooperation and starting the implementation of projects based on the Roadmaps' plans. Both will be stationed at DANS in The Hague, but will be on the road a lot to create the TDCC-SSH. There is also close cooperation with the teams for the Life Sciences & Health and Natural & Engineering Sciences domains, which are also known.
Relevant experience
With her relevant network, built up over a period of more than 18 years, Nicole Emmenegger is an obvious choice as Network Manager for TDCC-SSH. She has extensive experience as a networker and programme manager in the Dutch heritage sector in particular. She also worked in the UK and Switzerland in both national and international environments. Currently, Emmenegger is still Project Manager and Project Developer at Sound & Vision.
In his current role as Data Steward Coordinator at Erasmus University, Nils Arlinghaus knows better than anyone how fragmented the data landscape can be. He wrote his thesis on research culture and 'Questionable Research Practices' during his master's degree in Psychology. With his highly relevant experience in, and knowledge of, the Social Sciences and his strong motivation for advancing scientific research, Nils will undoubtedly be able to make an important contribution to the development of the TDCC-SSH.
TDCC
The thematic DCCs improve domain-specific digital research competences aimed at creating and making accessible interchangeable and reusable data and software. There will be three thematic DCC networks bringing together scientists and organisations in three 'domains': Social Sciences and Humanities (SSH), Life Sciences & Health (LSH) and Natural and Engineering Sciences (NES); analogous to the National Roadmap Large-Scale Scientific Infrastructure.
More information on TDCC and the Roadmaps can be found here.