TDCC Life Sciences and Health
As part of the implementation programme for the digitisation of scientific research in the Netherlands, NWO has provided funding for the next 10 years to support the formation of three national-level Thematic Digital Competence Centres (TDCC) with complementary network activities and projects to tackle domain specific challenges in data driven science.
The Thematic Digital Competence Center (TDCC) for Life Sciences and Health (LSH) builds on the DTL and Health-RI networks and will offer a programme aimed to strengthen and harmonize the digital practises among stakeholders in the broad Dutch research domains of life sciences (Levenswetenschappen) and biomedical/health sciences (Biomedische- en gezondheidswetenschappen).

Given the diversity and complexity of the Life Sciences and Health (LSH) research domain, a broad and extensive consultation process has been carried out among LSH stakeholders during the period of September 2021 – Spring 2022. The consultation sessions served to inform stakeholders about the anticipated role of the TDCC, capture the digital challenges they face in their research organisations and initiatives and collect input on expected activities that would fit the TDCC-LSH programme. The assembled input has been translated into a roadmap and into three main ambitions for the TDCC-LSH to support the LSH fields:
Harmonisation of good data stewardship and data access practices;
Enhancement of the interoperability of digital solutions and resources; and
Strengthening the capacity and expertise base in digital research.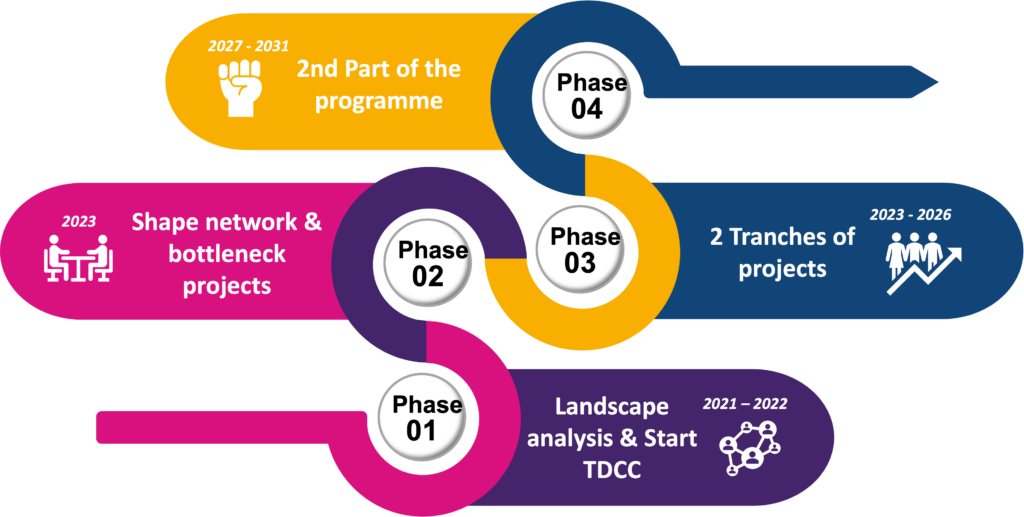 From the collected challenges, several overarching topics were prioritised by the stakeholders, and they form the basis of the first phase of TDCC-LSH activities and (NWO cofunded) projects.
The TDCC-LSH projects target the involvement and alignment of (existing) research infrastructure initiatives as well as communities of bioinformaticians; computational biologists; Ethical, Legal and Societal Implications (ELSI) specialists; data scientists; data stewards and research software engineers active across the broad LSH domain. The TDCC-LSH activities thus primarily target domain specific data professionals across data driven health and life sciences fields and are well aligned with activities organised by local DCCs (LDCC) established at many research organisations.
The TDCC-LSH core team assembles capacities from the Health-RI/DTL team and involves a network manager, several community managers and a data stewardship lead.
Celia van Gelder (Network manager and Lead Training & Capacity Building) (celia.vangelder@health-ri.nl)
Kimberley Zwiers (Community manager Life Sciences)
(kimberley.zwiers@health-ri.nl)
Petra Aarnoutse (Community manager Life Sciences)
Meike Bunger (Community manager Life Sciences)
Fieke Schoots (Community manager Health)
Mijke Jetten (Lead Data stewardship)