DSIG Network
Data Steward Interest Group
The Data Steward Interest Group (DSIG) is an informal and inclusive data stewardship community that promotes peer-learning though knowledge and experience exchange. The community is open to everyone who is interested in data stewardship and regularly organises (online) meetings and events, and has an active online presence through the Slack platform.
Meetings are not limited to a specific academic discipline or limited to the Netherlands, but it is Netherlands based. To allow variety and include various local activities on data stewardship, each meeting is organised and chaired by a different organisation. Hence, domain specific topics or meetings (LSH/NES/SSH) alternate with cross-domain general meetings. Additionally, extra initiatives such as the topical/Special Interest Groups (SIG) are organised that may result from the discussion in the DSIG meetings.
Vision
To establish a community hub for data stewardship that enables informal and inclusive knowledge and experience exchange.
Mission
Providing a platform for data stewards and like-minded in the Netherlands (and abroad) to share experiences.
Fostering the (Dutch) national implementation of data stewardship.
Joining efforts to produce hands-on solutions.
SPOTLIGHT ON: data stewards
September 19, 2023
Every other week, the Thematic DCCs and the DSIG put the spotlight on one research data steward working in the Netherlands, to stimulate knowledge exchange and peer-to-peer learning. What drew…
Read article
Spotlight on: data stewards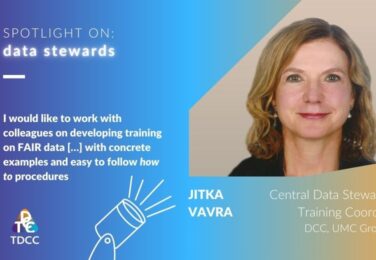 September 5, 2023
Every other week, the Thematic DCCs and the DSIG put the spotlight on one research data steward working in the Netherlands, to stimulate knowledge exchange and peer-to-peer learning. What drew…
Read article
Spotlight on: data stewards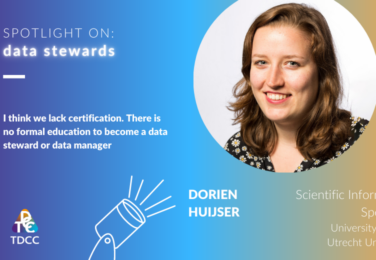 August 25, 2023
Every other week, the Thematic DCCs and the DSIG put the spotlight on one research data steward working in the Netherlands, to stimulate knowledge exchange and peer-to-peer learning. What drew…
Read article
Spotlight on: data stewards