TDCC NES Project Development Process
The project proposal development process is divided into five steps, which are elaborated below.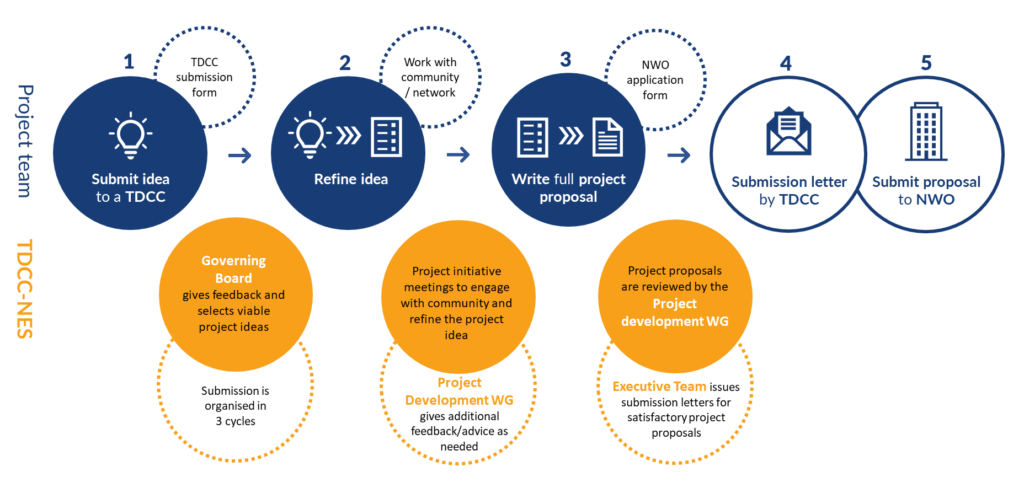 1. Submitting a project idea – Submission Form
You can submit a project idea through the submission form, where we ask you to describe your concept, explain how it relates to TDCC-NES roadmap challenges, and identify potential project partners.
The submission of project ideas is organised in 3 cycles
15 November 2023 – 15 February 2024, TDCC-NES feedback by the end of March 2024
16 February 2024 – 15 May 2024, TDCC-NES feedback by the end of June 2024
16 May 2024 – 15 September 2024, TDCC-NES feedback by 15 October 2024
After the end of a submission cycle, you will receive feedback from the TDCC-NES Governing Board with a decision if you can move forward to step 2.
Please note: For submissions in the last cycle, we expect the level of idea maturity to be higher with substantial existing community support. The last cycle may be modified or cancelled, depending on the amount of funding allocated in cycles 1 and 2.

2. Refining project ideas – Community input
All project ideas that move onto step 2 will be published on our website. TDCC-NES will facilitate the process of refining the project idea by organising and advertising project initiative meetings to engage a broader community, and create opportunities for involving stakeholders who are not part of the original proposal (for example individuals/institutions/groups suggested through feedback from the Governing Board). These meetings might be arranged online or in-person.
The final project plans are discussed, drafted, and agreed by the project team, implementing the Governing Board feedback received in step 1.
When needed, TDCC-NES will help with interpretation of the feedback, give advice on project development, and answer questions that might arise during this process. For this, we will establish a Project Development Working Group.
3. Writing full project proposals
The future project team writes their full project proposal using the NWO application template and guidelines that can be found on the page of the NWO call. Once completed, the full project proposal is submitted to TDCC-NES Project Development Working Group for review and approval. The review process will take 3 weeks on average.
When the review comments and feedback have been addressed and implemented into the final project proposal to the satisfaction of the Project Development Working Group, the proposal can move onto step 4.
4. Submission letter
Following a satisfactory review in step 3, and on the advice of the Project Development Working Group, the TDCC-NES Executive Team will issue a submission letter to accompany the project proposal.
5. Proposal submission
The project leader submits the project proposal with accompanying TDCC submission letter to NWO through ISAAC. Submissions will be accepted until 15 November 2024, 14:00 CET.
After step 5: International Review Committee
NWO will convene an internal check for all applications and a review by an independent, international committee. This committee will convene 3 times in Q3 and Q4 2024. Applications will only be processed by NWO at these times. We will publish these dates and related ISAAC submission cut-off dates as soon as they are known.