Spotlight on: Jitka Vavra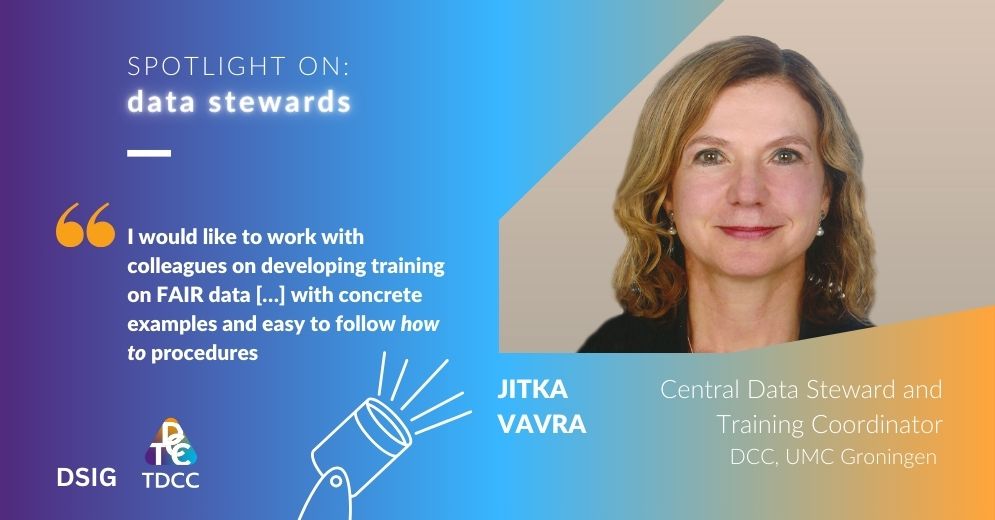 Every other week, the Thematic DCCs and the Data Steward Interest Group (DSIG) put the spotlight on one research data steward working in the Netherlands, to stimulate knowledge exchange and peer-to-peer learning.
What drew you towards the research data management field?
Before being appointed at the Digital Competence Center, I worked in the UMCG (University Medical Center Groningen) Central Medical Library where I was requested to develop a Research Data Management Awareness workshop for UMCG PhD students. I offered this workshop in 2017 on a voluntary basis.
Soon afterwards, the Graduate School of Medical Sciences requested this to become a mandatory workshop for all UMCG PhD students. Over the years it has been tweaked and improved with input from colleagues, and I have now made it available as an e-learning course. It is still mandatory for UMCG PhDs, but also available as an open course for people outside the UMCG. You can access it here: Research Data Management Awareness e-learning.
What is an activity / task of your role that you find yourself looking forward to?
A big challenge for us in the UMCG DCC is encouraging researchers to make their data as FAIR as possible. There is quite a lot of resistance to this amongst the researchers, partially due to misunderstandings about FAIR. One of my aims in the next few months is to arrange a training about FAIR, a webinar, to clarify the advantages of FAIR and dispel the misunderstandings together with UMCG representatives from:
the legal department – explaining how conditions for reuse can be implemented to the advantage of the researcher while keeping privacy sensitive data safe;
the Cohorts and Biobanks Coordination Hub that has recently launched a new UMCG research data catalogue for cohorts and biobanks and has some experience with researchers who have benefited from placing their metadata in the catalogue;
And including a general explanation about FAIR – how it can benefit the patient, the research paradigm, the researcher, and the public in general.
What is something unexpected that you can offer help with, if a colleague reaches out to you?
Because I am a generalist in RDM and have been working in the field for several years, I have acquired a good general knowledge about RDM and built up a network of contacts with expertise in different aspects of RDM. I can use this knowledge and network to help support staff and researchers to connect, to work together to find optimal solutions, and brainstorm on problems/questions.
What do you think your community of research data professionals is missing?
We need experts in metadata who can help researchers in a practical, hands-on way to assign good metadata. We also need a reliable/leading platform in the Netherlands with collected best RDM practices that can be shared and drawn upon by researchers and support staff. I think too much reinventing the wheel is happening now, and not enough sharing.
What is a topic you would want to collaborate on with colleagues?
I would like to work with colleagues on developing training on FAIR data, moving beyond the outline of things that need to be considered/carried out – enough lists with what needs to be done already exist. We should provide concrete examples and easy to follow 'how to' procedures, which will be relevant to many in the life sciences and health domain.
How would you like to see your current field of work evolve in the next 5 years?
Many researchers want to make their data FAIR, but it is a huge investment to do this properly, and it doesn't always pay off. More things need to be standardized for researchers so that making data FAIR is simplified and easy to carry out without costing the researcher a lot of time and headaches.
Get in touch with Jitka: University of Groningen profile
Since the interview took place, Jitka Vavra and Karina Sulim (UMCG DCC colleague), have organised an in-person event "Symposium FAIR (human) data" which will take place on November 9th 2023 (in the morning), at UMCG. It is primarily targeted at UMCG staff, but a small number of places will be available for external participants. More information will be made available soon, but if you are interested in attending you can contact Jitka directly at j.e.vavra@umcg.nl.
Do you want to read other interviews published in the Spotlight on series? Visit the series' page.
Are you a data steward or data professional who wants to be featured in one of the future editions? Fill out this form.