Connecting Communities: opportunities for collaboration in Germany from the CoRDI 2023 conference
Authors: Joanne Yeomans (Network Manager for TDCC NES) & Celia van Gelder (Network Manager TDCC-LSH and Training Programme Manager Health-RI/DTL/ELIXIR-NL)
If we're looking for good collaboration partners for TDCC projects initiated in The Netherlands, then we might find some great opportunities right on our doorstep. Germany has been setting up and funding new domain consortia that share the same aims and intentions as set out in the TDCC roadmaps (for the domains NES, LSH and SSH).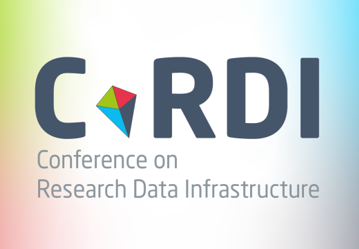 They have already made a lot of progress on which we could build our own projects, but we also have expertise and opportunities to offer to them. The time is right to see how we can share the benefits of working together.
How are things organised in Germany?
The German National Research Data Infrastructure, NFDI, was founded three years ago based on "collective action, not competition" and has quickly moved to use its 85 million Euros per year funding to establish 26 consortia across the domains of engineering science, natural sciences, life sciences, and humanities and social science.
In addition to the NFDI consortia there are also NFDI sections, which are legally dependent departments of the NFDI Association in which cross-sectional topics are worked on across the boundaries of the consortia. There are sections related to common infrastructure, ELSA (ethical, legal, and social aspects), industry engagement, training and education, and metadata, terminologies and provenance.
These consortia and the sections were presented at the CoRDI 2023 conference on 12 – 14 September in Karlsruhe, the 1st Conference on Research Data Infrastructures, with the overarching theme "Connecting Communities".
CoRDI: Connecting Communities
The event was much bigger than even the organisers expected: anyone who's anyone in the German RDM landscape was there: from technical providers, trainers, policy developers, coders, researchers and research support: 700 people in total. And despite 90% of the attendees being from Germany, some of their key international collaborators were also there from the UK, Netherlands, Switzerland, France, Luxembourg, and others. Think LCRDM network day, but in a country five times the size as The Netherlands.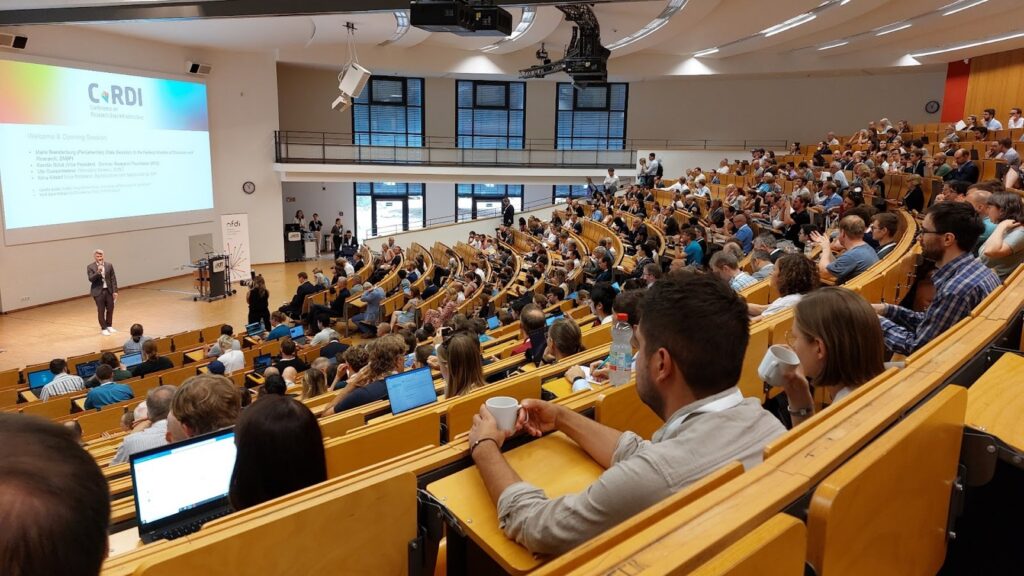 The conference was really well organised with domain-specific streams on day 1, followed on days 2 and 3 by parallel sessions pulling together presentations on cross-disciplinary RDM tracks: harmonising, enabling, spreading, linking, connecting, and securing.
All the sessions and speakers kept to time and space had been built in for questions and discussion, and there were great keynote speakers to bring everything together. In total there were 84 talks, 3 outstanding keynotes,and 105 posters. In their keynotes, Mark Wilkinson talked about FAIR in a series of Vignettes and Christine Borgmann described how knowledge infrastructures are the often invisible foundation of research data. The proceedings contain all the formal papers from the conference, and a Zenodo community contains many of the slides and posters.
We found plenty of opportunities to talk to people, with coffee and lunch served in the same space as the poster presentations, of which there were two separate cohorts over the three days. All the consortia, and many other session presenters also had posters, so that if you wanted to follow up with further questions, or exchange contact details, it was easy to find them in the main venue.
What The Netherlands can offer to Germany
Hopefully a collaboration between the NFDI consortia and The Netherlands can benefit both countries. We were surprised to find that many of those we spoke to at CoRDI had not heard of the 4TU.ResearchData repository, nor of the Data Stewardship profiles we have developed and now use (see our recent blog post about the Data Stewards Profiles Workshop).
Those working directly on software sustainability were familiar with the eScience Center's Research Software Directory and Practical Guide to Software Management Plans, but not all those in the domain consortia knew about these, even when software management was a topic they intended to address. Clearly, there's a great need for us to better communicate our own work, perform outreach, and exchange information.
To find out more
The NES and LSH Network Managers attended CoRDI and wrote about connections relevant for their respective domains:
Connections at CoRDI for TDCC NES (Natural & Engineering Sciences)
Connections at CoRDI for data stewardship, training, and for TDCC-LSH (Life Sciences & Health)
And you can delve into the details of the German projects, CoRDI conference papers, presentations, and posters through the following links, and follow progress by checking out the hashtag #cordi2023 on LinkedIn.
The next edition of the CoRDI conference is planned for 2025. We should consider presenting our own key services, tools, and solutions, to build collaboration and harmonization. In the meantime, there are ample opportunities to connect and collaborate immediately.